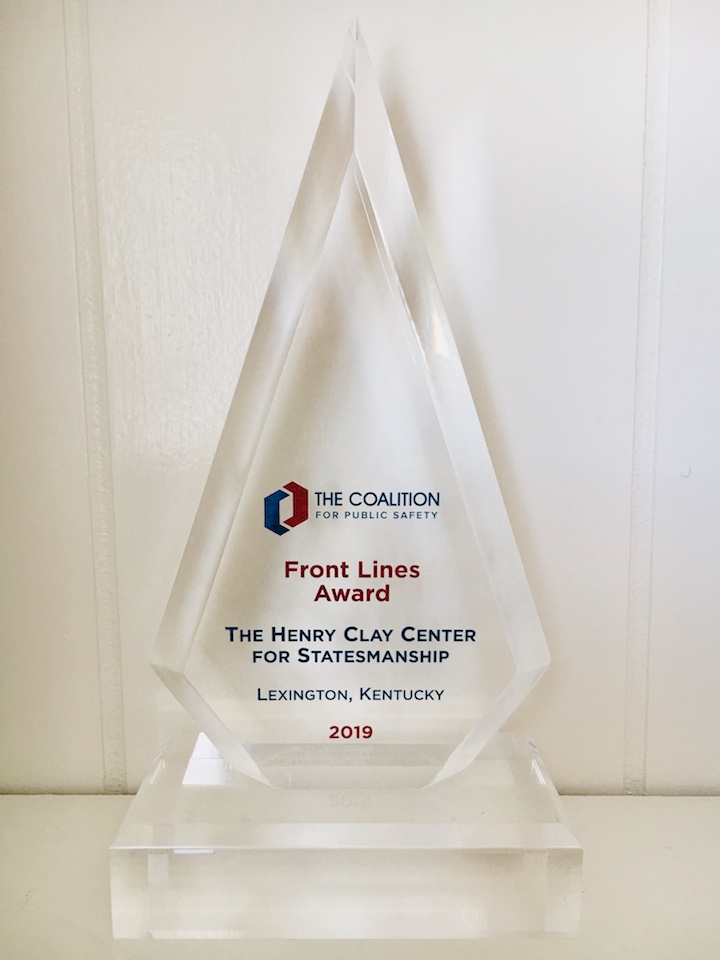 06 May

Henry Clay Center Receives Front Lines Award

On May 3, 2019, the Henry Clay Center for Statesmanship was honored to be the recipient of a Front Lines Award from the Coalition for Public Safety. The Center was presented with the award at the Celebration of Second Chances Derby Eve event at the Kentucky Castle. The Front Lines Award recognized Kentucky organizations working on the "front lines" of criminal justice reform. The 2019 College Student Congress will feature criminal justice reform as one of four key policy areas for which attendees will craft bipartisan legislation. On May 22, 2019, the Center will host its first-ever policy summit in Washington, D.C., The Clay Summit on Criminal Justice Reform: "Beyond the First Step Act."

During the awards ceremony, Executive Director of CPS Holly Harris remarked on the importance of the Center's work in engaging millennials from across the political spectrum in the conversation surrounding criminal justice reform. The Center's dedication to including and empowering the voices of young leaders in policy formation is a hallmark of the Student Congress programs, which prepare future leaders with skills in statesmanship, civil discourse, negotiation, cooperation, and compromise.

The Celebration of Second Chances also awarded lawmakers and advocates from across the country who have been instrumental in passing criminal justice reform at both the state and federal levels. Recognized bipartisan pairs of lawmakers included Sherly Delozier (R-PA) and Jordan Harris (D-PA) for their work on legislation providing those with nonviolent criminal records opportunities to avoid issues with obtaining housing, employment and education, Sander Rue (R-NM) and Antonio Maestas (D-NM) for their omnibus package of reforms, and Jimmy Higdon (R-KY) and Gerald Neal (D-KY) for their successful expungements bill.