10 Jul

Clare Magee to Serve as Acting Executive Director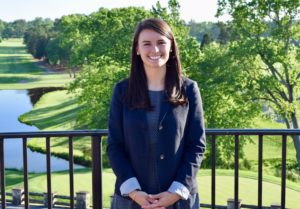 July 10, 2019, Lexington, KY – The Henry Clay Center for Statesmanship is excited to announce that Clare Magee is assuming the role of Acting Executive Director following the departure of Rob Givens.
Rob Givens joined the Henry Clay Center as Executive Director in the fall of 2017 after an extensive career in the United States Air Force and private sector consultancy. His tenure at the Henry Clay Center saw tremendous growth in the organization's programs and capacities, including a national expansion to Washington, D.C. Mr. Givens was recently selected to serve as State Director for U.S. Senator Rand Paul. He will  continue his commitment to the Henry Clay Center by volunteering as a Senior Advisor to the Board of Directors.
Clare Magee has been with the Henry Clay Center since 2017. Mrs. Magee has served as the Director of Academic Programs, responsible for planning and implementing the Center's annual High School and College Student Congress programs. She is a member of the 2019-2020 Commerce Lexington Leadership Lexington class, and has experience in nonprofit development and project management.
Alison Griffith, the Henry Clay Center's Director of National Outreach, will assume new responsibilities in fundraising and development for the Center. Mrs. Griffith is a seasoned program officer who previously worked with the U.S. Department of State and the U.S. Senate Committee on Governmental Affairs.
The Henry Clay Center's Board of Directors has begun a strategic planning process to establish the Center's long-term leadership and executive transition goals, and expects to announce a permanent leadership structure in the months ahead.
Established in 2007, the Henry Clay Center for Statesmanship is an innovative nonpartisan 501(c)(3) organization dedicated to changing the nature of our country's political discourse by teaching individuals how to listen and find common ground in the spirit of the profound legacy of the great Kentucky statesman, Henry Clay.